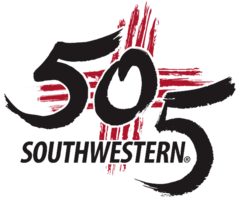 ALBUQUERQUE, N.M. & GREENWOOD VILLAGE, Colo.–(BUSINESS WIRE)–505 Southwestern® (505SW™), the country's leading Hatch Valley flame roasted green chile brand, celebrates 25 Years of Flavor this year and is hosting a major event in Albuquerque to celebrate the milestone in the location it was originally founded by local restaurateur and entrepreneur Roy Solomon. The public event, hosted at Solomon's food hall Tin Can Alley, will feature celebrity chef and Food Network star Aaron May, and the world's largest portable green chile roaster which will be roasting fresh Hatch Valley chiles live for attendees. In addition, guests will enjoy music from iHeartRadio affiliate 100.3 The Peak and a food demo from Aaron May with tickets starting at just $25.
The celebration is scheduled for Thursday, September 15 at 6:30pm at Tin Can Alley, on Alameda Boulevard just east of I-25. Tin Can Alley has gained national recognition as an innovative venue featuring locally inspired food, beverages, and entertainment. Santa Fe Brewing is an anchor tenant alongside several other local vendors.
As part of the year-long silver anniversary celebration of the brand, 505SW invited its fans to submit unique recipes featuring its world famous green chile. The winner of the contest, Southern California resident Merry Graham, is scheduled to be in attendance, and Chef May will share his unique twist on the winning recipe, Air Fryer Southwestern Salsa Verde Corn and Bacon Rangoons.
The event is open to the public (subject to capacity limitations) and the first 150 people to buy tickets will receive a commemorative gift bag. General admission tickets are $25 and include food from all Tin Can Alley food vendors. Tickets can be purchased through Eventbrite HERE.
Fans who are unable to join for the event can celebrate with 505SW virtually by participating in 25 Years of Flavor contests and virtual events by following 505SW on Facebook, TikTok, and Instagram.
"For 25 years 505SW has been committed to creating the highest quality products using the best and most simple ingredients from the Hatch Valley. Now we want to celebrate with the people who have made our success possible," said Rob Holland, Executive Chairman of 505SW. "We will be demonstrating our commitment to our fans and communities with a recipe contest featuring incredible prizes, other giveaways, special offers, and charitable giving all year long."
505SW started in 1997 when Albuquerque resident Roy Solomon began bottling and selling his unique recipes for green chile sauce and salsa. Honoring his local area code to develop the brand, Solomon's "magic ingredient" was fire-roasted, Hatch Valley green chiles. With humble beginnings as a local favorite, the brand has grown today to become the largest nationally distributed jarred green chile sauce brand. 505SW is sold in every U.S. state and internationally. 505SW's parent company, Flagship Food Group, operates multiple facilities in New Mexico throughout the state and created the 505SW – New Mexico True Scholars program in 2017 to support local New Mexico high school students interested in studying agriculture in college.
For more information about 505SW and the 25 Years of Flavor event, visit www.505southwestern.com.
Lis, C. (2022, August 17). 505 southwestern hosts '25 years of flavor' celebration event at Tin Can Alley. Business Wire. Retrieved September 1, 2022, from https://www.businesswire.com/news/home/20220817005626/en/505-Southwestern-Hosts-%E2%80%9825-Years-of-Flavor%E2%80%99-Celebration-Event-at-Tin-Can-Alley